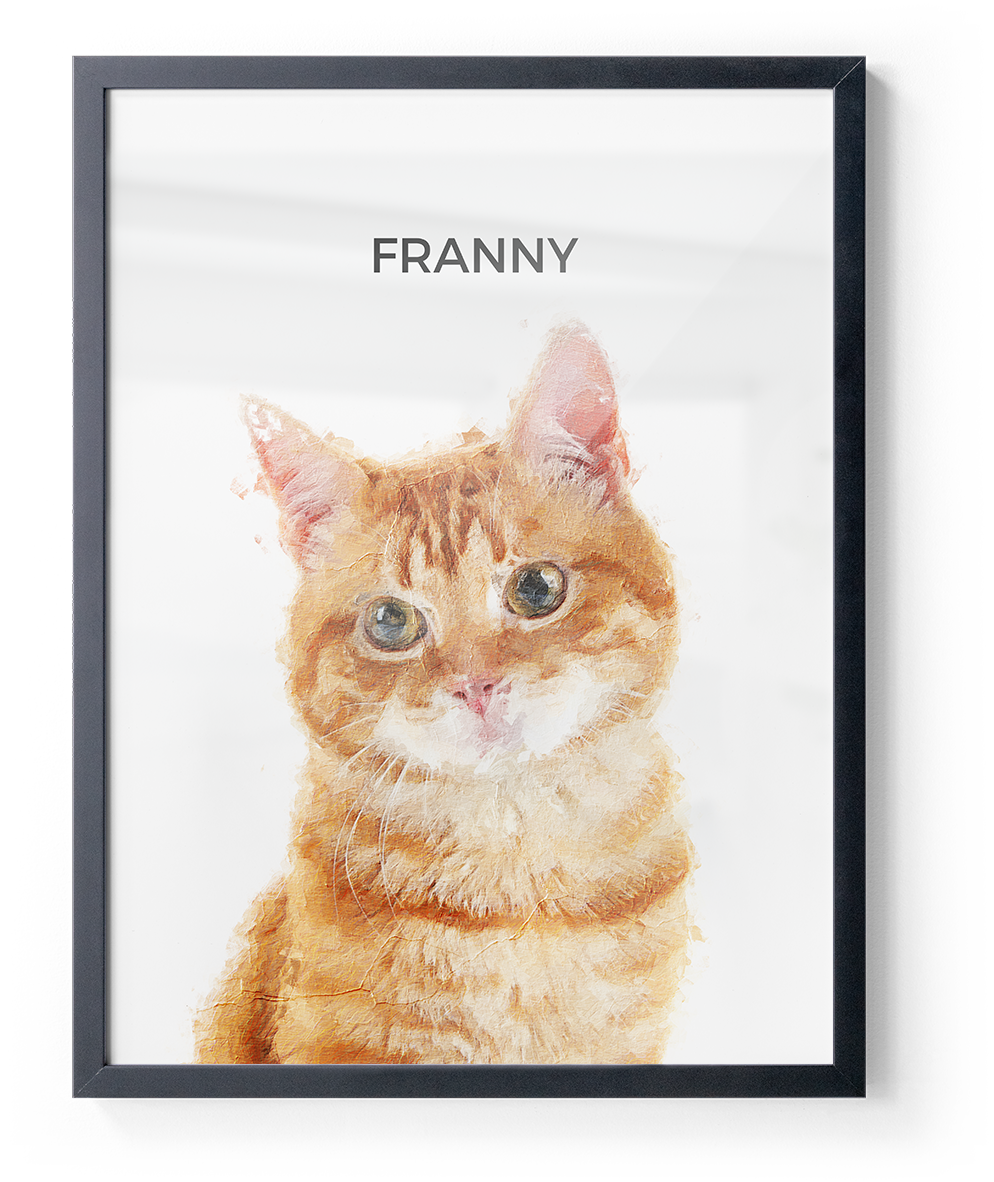 We started Punk & Loo for two simple reasons
We Love Art & Animals
Creating beautiful portraits for pets and their owners brings the whole team at Punk & Loo great satisfaction. We love receiving your photographs of your dogs, cats, horses, birds, even your reptiles! More than this, we're happy to know they're celebrated through art and hung on the wall to bring you joy.

We chose the name Punk & Loo, as an homage to our appreciation of Emily Carr. Carr's love of animals is well documented in her journals, they included parrots, chipmunks, a racoon, white rats, cats, plenty of dogs, and most famously her Javanese monkey, Woo. A lifelong lover of animals she spent time raising sheep dogs in Victoria, BC, on southern Vancouver Island. She wrote extensively about them, particularly Flirt, Punk, and Loo. Well, the stories clearly left an impact on us and we thought no better way to connect animals lovers and art than Emily Carr.
Carr's works made a particular impact on our founder Alan Moss, during a childhood visit to Vancouver Art Gallery he was moved by the paintings of giant forests. Carr's depictions of blue skies, clouds, and towering trees left a lasting mark on Alan's connection to west coast. 30 years later, Alan visited the Musee de Beaux Arts in Montreal for an exhibit showcasing Carr's canvases that had been lost to the East Coast. These massive and powerful depictions of the west coast took him right back to his visit to his childhood discovery of her work.

Punk & Loo's dedication to the environment and sustainability is driven by Alan's passion for British Columbia. His Scottish Mother and English Father settled in BC independently but found each other on Salt Spring Island in the 1950's. His father worked as a communications installer for BC's booming resource industry. Alan counts himself incredibly fortunate to spend much of his childhood outside developing a passion for the province and living "the good life."
Read More
Less
Alan Moss
Punk & Loo Founder
Punk & Loo is proud to partner with the BC SPCA, who rescue animals from abuse and work to protect and enhance the quality of life for all animals in B.C. Our own philosophy of uplifting our creature companions is reflected in their mission, and we gratefully contribute by donating a portion of our sales in B.C. to their cause.
This section doesn't currently include any content. Add content to this section using the sidebar.
QUALITY
With over 20 years creating high-quality displays for artworks, we understand how to craft lasting products. When you make the decision to hang art on your wall, the details matter; the frame, the clarity of the glazing, brightness of paper or canvas, and resolution of the printing, these are the considerations of Punk & Loo.
Paper & Ink
With the time we take to craft and colourize your pet's portrait, it's only natural we take the application of the artwork to paper very seriously. We use sustainable FSC-certified archival bamboo or cotton papers for all our productions. We print with Canon imagePROGRAF Printers using Canon's archival pigment ink for industry-leading UV resistance.
Canvas
Punk and Loo Canvas portraits are printed on a medium weight "Oxford Weave" canvas specifically manufactured for digital printing using a 50/50 poly/cotton blended fabric. In combination with our color accurate pigment based inks and a UV filtering surface protection our canvas products are both durable and will remain beautiful for a life-time with proper care. Framed canvases use a 3/4" profile stretcher bar and a 1.25" frame while our un-framed canvases have a 1.5" side profile with colour matching printed edges.
Packaging
Your pet portrait will be shipped in our strategically designed packaging to minimize risk of damage while in transport. Our focus on sustainability is applied to our packaging wherever possible and we're striving to work towards a 100% recyclable solution.
Glazing
Clarity is key so we use high-quality glazing to ensure you get the best visibility of your pet. Made from recycled materials, our heavy 1mm to 2mm matte acrylic has 180 degree viewability and is designed to reduce reflection as much as possible while delivering industry standard UV protection.
Hardware
Our pet portraits are equipped with all-metal hardware, hanging hook, and a guide to help you get it right - the first time.
Frames
BLACK AND WHITE WOOD FRAMES
Quality can still be economical. Our black and white wood frames are still manufactured with solid wood. Sustainably sourced from the high-yielding forests of Asia, these frames are designed to last. Finished at a width of 13/16" with a depth of ⅞" in a non-toxic white or black paint.

EXPRESSION SERIES WOOD FRAMES
Our Expression Series Wood Frames are exclusive to Punk & Loo. Available in Red Cedar, Douglas Fir, and Western Maple sourced from local Vancouver Island mills. With sustainability in mind, the Red Cedar and Douglas Fir used in our frames is purchased from mills focused on salvaged timber. Our Western Maple is grown and milled here on Vancouver Island. These frames are an expression of both quality and craftsmanship, and our feelings towards how wood should be sourced for producing frames.


Reviews
"We're so delighted with our Punk & Loo portrait of Beans. It's whimsical and fun, but also really captures the essence of our beloved pet."

- Rob Aitken

BEAN'S HUMAN
"We just received our framed art print of Baloo from Punk and Loo and love it! The print was was easy to order and the framing and print quality are excellent."

- Laurie Faulkner

BALOO'S HUMAN